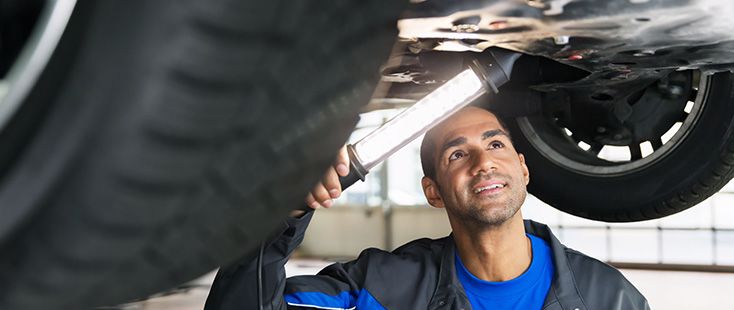 Ford Service Department
In our Service Department, we offer a wide range of options to care for your vehicle, including our highly acclaimed Ford Value Service offering. Feedback from our customers consistently tells us that, for value and peace of mind, this offering is unmatched. Servicing includes Oil and Filter change, an incredible 50 point visual health check, free check for Service upgrades & car wash. All checks are carried out by our highly trained Ford technicians, who have a wide range of experience of all makes and models.
For our non-Ford customers our Value Service ranges depending on the oil required.
Please feel free to contact our service team for the very best deals or just more information. To speak to our dedicated service adviser speak to Pamela Davis, or our Service manager Paul Russell. In addition, with our value service we offer 12 months AA Membership at only €40.
After completion of these checks, should we identify that your car needs additional works, we will contact you and explain what is required, together with a detailed costing. It is then up to you to decide if you wish to proceed with these works. In this way, there is total transparency of the costs, thus eliminating any shocks when you come pick up your car.
In addition, we offer:
Pre-NCT checks
Puncture Repair and Wheel Alignment
Tyres
Exhaust Fitting
Tow Bar Supply and Fitting
Paint and Body Repairs
Wiper Blade Supply and Fitting
Brake Pads and Discs
Oil Changes
Air Conditioning Refill
Key Replacement
Batteries
Bulb Replamement
Parking Sensors Supply and Fitting
We are recognised both nationally and beyond as having one of the top specialist car technicians around in Bryan Kane, and our specialist car customer base continues to grow, to the extend that we are now the first stop for all specialist car owners (particularly Italian cars) in the country.
Email or Call Me BackBook a ServiceValue My Vehicle
---
One Call Hotline Number
Whatever you need, Ford One Call can connect you to all our services, one easy number to access all of the Ford Services 24/7.
This service will include:
Ford Roadside Assistance (Blue Service only)
Ford Customer Relationship Centre
Ford Finance
Brochure & Sales Literature


Make sure you save the number for Ford One Call: 1800 77 11 99